One of my favorite shoots this year was a music video for Chubibo. I had worked with the director, Nico Puertollano before (
a Sugarfree video for Dencio's!
), and when he first described what he wanted me to do, I was both scared and excited. He said he wanted the venue to look like a cabaret club, and showed me pegs with golden frames, heavy curtains, and light bulbs (nice, right?), but we were to shoot in an almost entirely empty dance studio (meaning mirrors all around! =s). His concept included pole dancing, and we were to shoot in the dance studio that held those lessons.
The idea of being able to come up with a design on my own made me look forward to the shoot, but I was also very nervous wondering if I could actually pull off what we had in mind. Half the "battle" in PD-ing has always been executing the design. Plus, I had a lot more work on my hands juggling other shoots I was helping out with. I literally squeezed in my shopping and prep for this video during prepping for those other shoots, didn't even get to re-pack and organize the props according to the set up, and went from one shoot on a Saturday, to this shoot on Sunday, to an out-of-town shoot on the Monday that followed. It was a tiring weekend! But I came out alive, and I'm very happy with what I did. Super thank yous to Denise and Harold who helped out, and of course, my setmen! You think those curtains hung themselves? Hahaha! I couldn't have pulled off any of this without them. =)
Main set up
I was able to find the giant frames and the chair in Evangelista st.,
and bought a LOT of geena silk for the curtains.
Good thing it looks thicker on camera!
In this shoot, I also learned that wiring bulbs is no joke!
It took awhile to get those set up!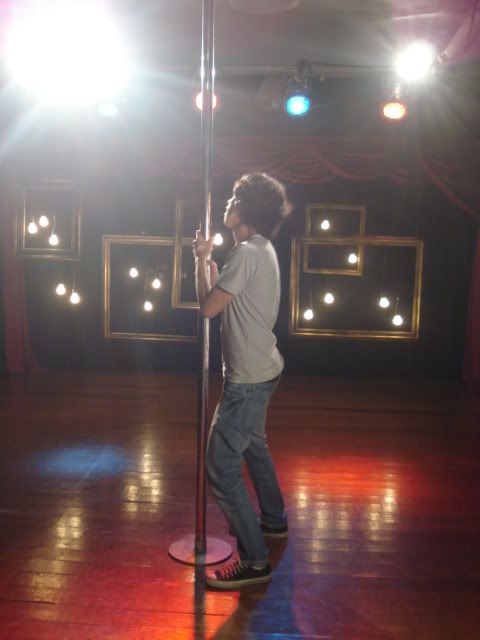 My friend Marco having fun between pole dancing shots.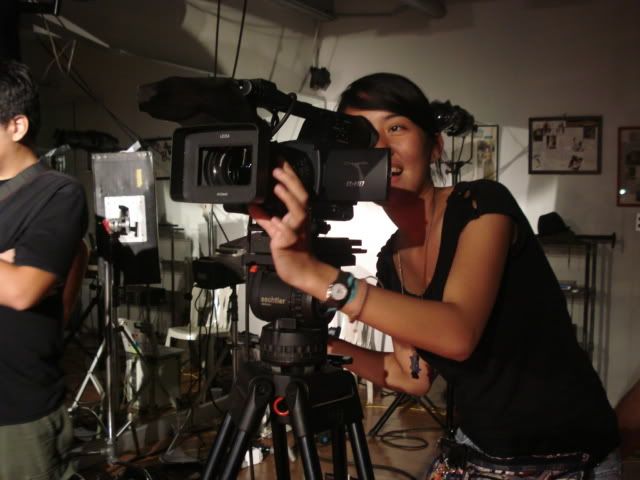 Trying to be a DOP hehehe =)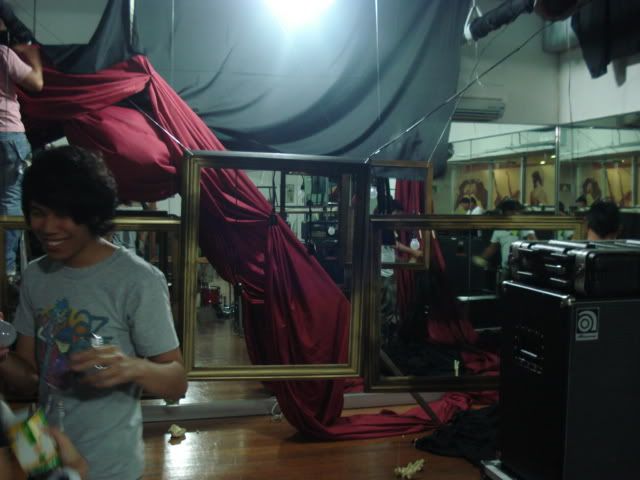 Setting down.
I wasn't able to take "before" and "after" pictures,
but you can see a little of what the studio looked like
without the par lights and curtains.
It took us around 5 hours to set up everything,
but just around 30 minutes to take it all down. =( Haha!
I saw the video once on Myx, but don't have a copy yet! I'll get one soon and post it! =)